Douglas Mill: Small is beautiful
---

---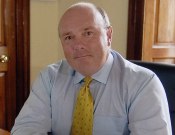 The SYLA recently published the results of a survey on retention issues within the legal profession. Well done them. Much needed and with the number of responses received totally statistically significant.
Seventy-seven per cent of responses were from Glasgow and Edinburgh and 11 per cent from Dundee and Aberdeen. Leaving only 12 per cent from elsewhere – which might I suppose include London. The point is, that is where the trainees are. Not the small firms. Not the country.
So what did it conclude? Largely that salary and work life balance issues are causing droves of young lawyers to consider a career either outwith the legal profession, or outwith Scotland, or, I suppose, both.
And that is sad. For a range of reasons including the fact that they will all have worked long and hard to get where they are today and the fact that their profession-and country need them.
I hold no brief to talk up Scotland as a country, though with cousins coming back from South Africa after 50 years, we are arguably not good at perspective and counting our blessings. And, granted, we are in a truly global world, and if lucre is your god, then the really big bucks lie elsewhere. If you go, will you send back a letter from Dubai…
Nor is my brief to spring to the defence of some of the big firms and their pressured working practices. Their PR teams are bigger than mine (me). We all hear the 'not showing commitment' stories.
Some people love all that Masters of the Universe stuff and good luck to them, their gearing and boasting about their earnings. Be warned, though people, the Sunday Times ran an article at the weekend on the correlation between earnings and happiness – and it is not positive. At all. However, each to their own and good luck to them. The problem is that their mores and zeitgeist now dominates the legal profession, more than it ever did, and now to a critical extent.
And no one or organisation is speaking out against that and giving any balance to the debate, because money is not and never should be the measure of a good solicitor. And there is life outside the big firms. And challenging work. And a closeness to clients and colleagues which few big firms can match.
Many of our large large firms have been disrespecting fellow professionals for too long now without challenge. When I wrote in a similar vein a few years ago, I got a call the next day from a solicitor who identified himself as a former partner in a large historical firm which no longer exists. Here comes the tirade, I thought. The 'who do you think you are we' all love so much. Not a bit of it. 'Mr Mill', he said, 'you are sadly absolutely correct. We were encouraged to look down on town firms.' And that infects training.
Scotland has about 1,125 law firms. The above applies to about 45. There are, young fellow solicitors, hundreds, yes hundreds of firms out there desperate for young blood.
So, to paraphrase a political mantra from a few years ago, THERE IS A THIRD WAY. There are career opportunities – not just jobs – all through Scotland. Wonderful areas such as the Moray Firth, the Borders, Ayrshire, Fife and everywhere an ageing High Street still exists. Places where you can sell your city centre flat, buy a large villa and an acre of ground and bank into your pension the six-figure sum left over.
Places where you can serve a community, be respected by clients, school your kids well locally at no charge. Where your commute will probably not involve a set of traffic lights. Where you will get a broad range of work. Where, properly supported and networked, you will enjoy a very good living in places where £85k can go a very long way.
Places where there still remains a collegiate spirit and the ability to work hard and well without becoming a stranger to your friends and family. To be a well-rounded professional and not just a money making cog in a wheel.
Yes, I know we share with our teaching and medical friends the issue of a city centric generation but Scotland needs lawyers. And not just in the four cities. Believe me. You are not a pathetic failure if you work outwith them. Some of the best and most profitable firms are spread throughout the country. I have dealt with 130 firms in the last 10 years, and never before have their been so many great opportunities for solicitors prepared to take off the blinkers.
Your future could be just one e-mail away.