'He'll have a bike like his pals, now' – the Faculty spreads Christmas joy
---
---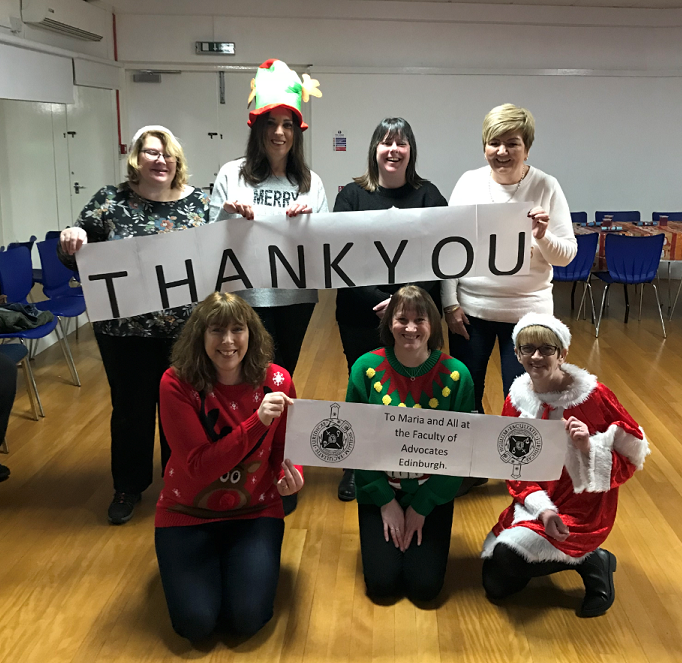 A little boy in Fife won't stand out from the crowd this Christmas but will be able to boast to pals that Santa brought him a bike, too – thanks to the generosity of members of the Faculty of Advocates and staff.
The boy is one of many youngsters - and parents – to be given some festive cheer by the Faculty's Xmas collection in aid of the family support charity, Home-Start Glenrothes.
Organised for the fourth time by Maria Maguire QC, the collection produced a van-load of presents and treats to be taken over the Forth, as well as £4,800 in cash.
Lindsey Brown, of Home-Start Glenrothes, said: "It was about 1pm when the van from the Faculty arrived, and we stayed here until nearly 9pm sorting out the gifts, there was so much.
"It really is the difference between Santa coming to some of the families, and not. We had one mum with two children. She literally had nothing to give them for Christmas. We were able to tell her not to worry, and the children will now be getting beautiful pyjamas, lovely games and books. She just held my hands and said, 'Honestly, you have no idea how much this means to me, how much I appreciate it.'
"Another mother was in tears. Her children have different fathers and one wasn't going to be able to give anything to his son. The mum was really upset that her daughter would have presents and her son wouldn't. We had a bike for him. The mum was thrilled. She was saying, 'Oh wow! When he goes back to school he can say he got a bike for Christmas…he is going to be like all his pals, now.'
"We were also able to make up gift bags for mums and dads, and it's just amazing to see people's faces, absolutely fabulous. It's hard work but so pleasurable. I think we get as much pleasure delivering the presents as the families do in receiving them! A huge thanks to everyone who donated such lovely gifts."
Ms Maguire said: "This year was a fantastic success. I am pleased that we have been able to make a difference at a time when, sadly, things seem to be even harder for the families. I have always thought that if we make a difference to even one child or one family, it would be worth it. Thanks to the generosity and support of the members of Faculty and staff, as well as solicitors and members of the judiciary, and friends and families, we can help many – Home-Start is supporting nearly 70 families.
"A big thank you is also due to those who gave up their Saturday morning to help sort and load all the donations. Although the presents are delivered, it's never too late to give cash donations as funds are used all year round to help families in crisis – just contact me at maria.maguire@advocates.org.uk."
See here for other Faculty good deeds in 2018.