New senators installed at Parliament House ceremony
---
---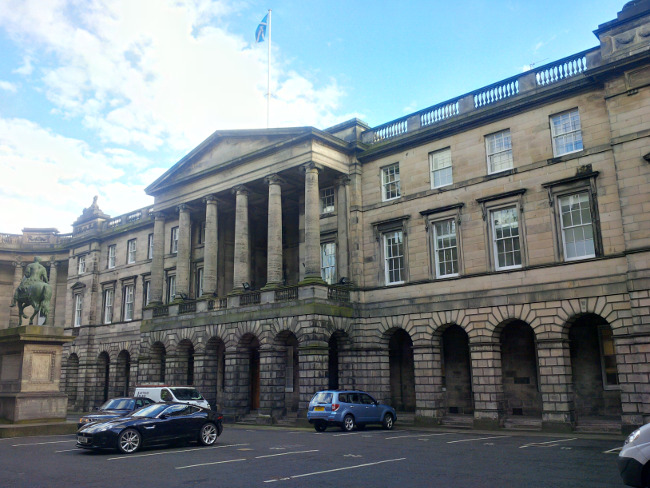 Three new Senators of the College of Justice were today installed at physically distanced ceremonies held in Parliament House.
Lord Sandison, Lady Haldane and Lord Richardson will take up their appointments on 1 March 2021.
The Lord President, Lord Carloway, welcomed the news senators.
He told Lord Sandison: "You graduated from the University of Aberdeen and then gained a Diploma in Forensic Medicine from Glasgow. Your enthusiasm for academia undimmed, you then obtained a Masters and PhD from Cambridge University.
He added: "You also have the distinction of being the only Scots lawyer to have represented a client before the Investigatory Powers Tribunal. By appearing for the appellant in the remitted appeal in Campbell v Dugdale in April 2020, you were the first advocate to appear before the Divisions by video link. You have then first-hand experience of the way in which the judges of the court service have adapted rapidly to change. I therefore offer the court's congratulations on this major step in your legal career and its best wishes for the future."
He told Lady Haldane: "As a graduate of the University of Edinburgh, you passed advocate in 1996, excelling across a broad spectrum of the civil law, notably in professional negligence, commercial, complex personal injury and public law matters. You took silk in 2010.
He added: "A broad practice in civil matter together with a sound knowledge of criminal law and procedure will stand you in good stead for the years ahead. These are difficult times which have required extraordinary measures. I am confident that, with your skills and experience, you will be a major asset to the bench. Congratulations, once again. The court wishes you well in this new chapter of your legal career."
He told Lord Richardson: "You have a law degree from the University of Edinburgh, and a Masters from the University of Leiden, an institution with historic intellectual links to the study and practice of law in Scotland.
"Your talents secured appointments, first, as a standing junior to the Scottish ministers and, then, the same appointment by the Advocate General. Of particular importance, you have served with distinction as an advocate depute, prosecuting serious crime, during which time you took silk in 2017. Although that was not very long ago, you are to be congratulated on your appointment as a senator. The court wishes you a long and distinguished judicial career."