Scottish Conservatives promise to abolish 'not proven'
---

---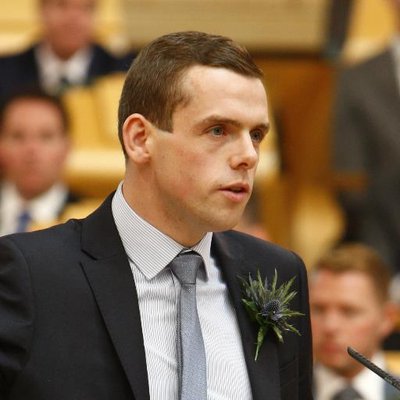 The Scottish Conservatives have pledged to abolish the "not proven" verdict in a series of criminal justice election promises.
Leader Douglas Ross highlighted a "disproportionate number of not proven verdicts in rape cases", which, he said, "certainly doesn't deliver for the victim [sic] and it still leaves the accused with an uncertain verdict".
"Guilty or not guilty is clear, not proven is too ambiguous," he added.
Mr Ross also pledged legislation he called Suzanne's law and Michelle's law.
Suzanne Pilley was murdered in 2010. The law would prevent the release of convicted murderers until they had revealed the location of their victim's remains.
Under Michelle's law, which is named after 17-year-old Michelle Stewart, who was murdered in 2008, victims' families would be given more say over release arrangements.
Mr Ross said: "We are on the side of crime victims whose pain and suffering is often compounded by their experience of the criminal justice process.
"There is so much we can do to improve the prevention and detection of crime but also how victims and their families can be treated with decency and respect.
"The family of Michelle Stewart are an example to us all. Having suffered such a tragic loss, they have found the strength to campaign to improve the system for others.
"Our victims law will give victims and their families a meaningful voice and bring much needed transparency to prosecutions, courts and parole."