Terra Firma Chambers recognised as market leaders in latest Chambers rankings
---

---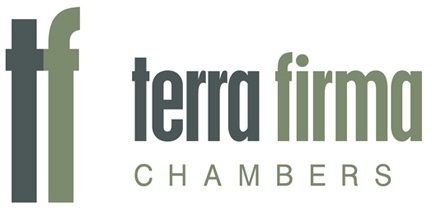 Terra Firma Chambers has retained its Band 1 rankings for Planning and Environmental Law, Agriculture & Rural Affairs and Tax in the latest edition of Chambers & Partners UK Directory.
Described as the 'top choice for planning and environmental work in Scotland', Terra Firma remains the only stable at the Scottish Bar with a Band 1 ranking for Planning and Environmental Law. "The set is very friendly and good to work with. The advocates are very knowledgeable and experienced, and provide practical legal advice."
For Agriculture & Rural Affairs, Terra Firma is described as 'a prestigious stable home to advocates with impressive expertise in agricultural and rural issues'. The Stable's Tax expertise is also recognised: '[Terra Firma] Offers leading Scottish counsel in issues of both indirect and direct taxation. The advocates have advised and litigated on behalf of companies and high net worth individuals in high-profile matters relating to VAT, alcohol duty, and trusts.'
Once again, Terra Firma is the only Stable at the Scottish Bar acknowledged for its members' expertise in respect of Licensing. Scott Blair and Robert Skinner have again received Band 1 rankings with James Findlay QC also receiving a new Band 1 ranking in this practice area.
Other new rankings were received for Roddy McIlvride QC for Commercial Dispute Resolution: "He's very good at building a rapport with instructing solicitors and clients, has a very persuasive delivery in court and is just a delight to work with."; Julius Komorowski for Administrative and Public Law: "He's a very clever barrister and a very good public lawyer"; and Alasdair Burnet for Real Estate Litigation: "He is cerebral and measured as a senior junior, as well as responsive and helpful."
In total, 16 members received 26 individual rankings for their expertise in Administrative & Public Law, Agriculture & Rural Affairs, Civil Liberties & Human Rights, Commercial Dispute Resolution, Company, Employment, Immigration, Licensing, Pensions, Planning & Environment, Product Liability, Real Estate Litigation, Restructuring/Insolvency and Tax. In addition, 'Double Silk' James Findlay QC is again ranked in a number of areas for his work at the English Bar.
Once again, the clerking team at Terra Firma was praised for their client service: "Practice manager Emma Potter and deputy clerks Andrew Veitch and Tracy Whitelaw are superb clerks. They are very approachable, accommodating and will do whatever they can to secure availability of counsel."
Emma Caskie-Potter, practice manager of Terra Firma Chambers, said: "I am delighted with another strong showing for Terra Firma in the latest rankings from Chambers UK, and to be once again acknowledged as the premier stable for both planning and environmental law as well as licensing. It is particularly pleasing to receive the additional rankings for Counsel and to again be recognised for the clerking service we provide."