Gretton and Reid Conveyancing Roadshow starting soon
---

---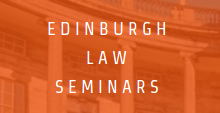 STARTING SOON
Gretton & Reid's "Conveyancing – What Happened in 2019" Seminar Series
Professor George Gretton and Professor Kenneth Reid will begin their annual conveyancing roadshow on Monday 20 January. This popular seminar will be taking place in Inverness, Aberdeen, Dundee, Dumfries, Glasgow, Edinburgh and Perth over the following three weeks.
For further information or to register go to http://www.edinburghlawseminars.co.uk/conveyancing-2020.html
Their comprehensive and indispensable review of the cases and statutory developments during the past 12 months is a MUST for anyone working in this area of law. Each delegate will receive a copy of the substantial set of materials giving the full text of the talks, summary of cases and statutory material from 2019. In addition, as always, a copy of the revised materials are sent to each delegate when published in book form later in the Spring.
£150 plus VAT person, discounts apply when booking five or more places across any of our seminars.
Registration is also open for the following seminars:
Register via our website where you can book online or download a registration form.
Edinburgh Law Seminars have been delivering high quality CPD throughout Scotland for over 25 years.
For further information please email admin@edinburghlawseminars.co.uk or telephone 0131 2151858.
---

---