SYLA November events
---

---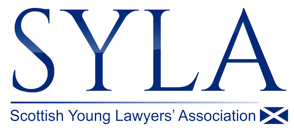 Beyond the Basics – Oral Advocacy
Monday 4 November at 6pm
Brodies Glasgow Office
SYLA have teamed up with leading law firm Brodies LLP to offer SYLA members a unique oral advocacy presentation. The event will provide attendees with an insight into advocacy from both sides of the bench. We have arranged an impressive line-up of speakers all of whom will be able to offer a difference perspective on advocacy. The event has a top-class line–up with speakers Tony Jones QC, Donald Findlay WC and Lady Wise.
Eventbrite registration: https://www.eventbrite.co.uk/e/beyond-the-basicsoral-advocacy-tickets-75271592359
More than Just a Lawyer … First Time Buyer Event
Wednesday 6 November at 6pm
Law Society of Scotland, Edinburgh
Getting on the property ladder nowadays can be a difficult and challenging task. However, our speakers are here to share their experience and tips for buying your first home to make the process not seem so daunting. Kindly hosted by the Law Society our speakers include a mortgage advisor and conveyancing solicitor.
Eventbrite registration: https://www.eventbrite.co.uk/e/more-than-just-a-lawyer-first-time-buyer-tickets-73998157481
Beyond the basics - Defamation
Thursday 21 November at 6pm
Mackenzie Building, Edinburgh
SYLA has teamed up with Axiom Advocates to provide a conference on defamation law. Defamation, reputation management and privacy are all areas that many firms and individuals need to consider more and more in this social media age. This seminar will provide an overview of the recent case law, the issues that are of our time and provide an idea of how the media is affected by the law. This is a chance to hear not only about the law but also to gain an understanding of how the law is experienced by those in the media industry. Speakers include Mark Daly (BBC), Kenny McBrearty QC and Roddy Dunlop QC.
Eventbrite registration: https://www.eventbrite.co.uk/e/beyond-the-basicsdefamation-tickets-75272178111
Spotlight on … Counter Fraud
Thursday 28 November at 5:30pm
DWF, Glasgow
The Scottish Young Lawyers' Association is delighted to introduce the next in our 'Spotlight on…' series, taking place on Thursday 28 November 2019. This series aims to deliver insight into different sectors of the Scottish business world and what clients operating in these areas need from their legal advisers. The sessions aim to foster increased commercial awareness and industry insight.
'Spotlight on… Counter Fraud' will hear presentations from DWF's Partner and Head of Counter Fraud (Scotland), Jill Sinclair, and Andrew Tolmie, Legal Director at Clyde and Co.
Registration will commence at 17:30, with the event beginning at 18:00. Delegates will then have the opportunity to ask questions and network over refreshments.
Eventbrite registration: https://www.eventbrite.co.uk/e/spotlight-on-counter-fraud-tickets-75430012197
---

---