SYLA: So you want to be an advocate?
---

---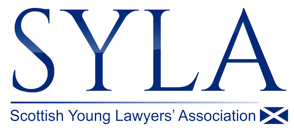 Tuesday, 30 April 2019
Mackenzie Building, High St, Edinburgh
6pm
The Scottish Young Lawyers' Association (SYLA) has partnered with Hastie Stable for another instalment in its 'So you want to be…' series.
Advocates of different levels will spill the beans about life at the bar, their experiences and tips for those considering becoming an advocate.
The three speakers are Michael Dempsey, Michael Upton and Gavin MacColl QC.
Mr Dempsey called to the bar in July 2017. He graduated from the University of Strathclyde with a BA in politics, an LLB and the Diploma.
Thereafter, he trained as a solicitor with MacRoberts before pursuing a career as an advocate.
Mr Upton called in 1991 after practising civil litigation. His main interest lies in planning law where he is experienced in the areas of appeals, inquiries, enforcement and CPOs.
Mr MacColl called in 2000 and took silk in 2017. He balances his role as director of Hastie Stable with a busy practice in commercial law.
Attendees are invited to enjoy a glass of wine and networking at the end of the evening.
---

---