Solicitor, Personal Injury (NQ-3PQE, Edinburgh) – Gildeas Solicitors
---

---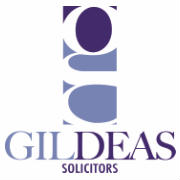 Gildeas is a fast paced, independent and modern law firm with offices in central Glasgow and Edinburgh. We cover personal injury, medical negligence, private client and property law.
We are currently looking to recruit for the following positions:
Edinburgh - Solicitor: Personal Injury (NQ-3PQE)
The successful candidate will have their own caseload consisting of a variety of pursuer RTA/EL/PL/OL cases. There may be opportunities to become involved in medical negligence cases in the future. You will have good experience of litigating in the Sheriff Court and may also have dealt with Court of Session cases.
You will principally be litigating in the Sheriff Courts, including the All Scotland Personal Injury Court at Edinburgh. The successful candidate will have a sound understanding of RTA/EL/PL/OL law, excellent client care skills and be an effective communicator. They will have excellent negotiation and advocacy skills, with an ability to work to deadlines and as part of a team. The role is full time and based in our Edinburgh office. Salary will be dependent on experience. To apply, please email your CV and a covering letter to David McKee on dmckee@gildeas.net
---

---